Join us today and become a beacon of hope for a local family in need.
Lighthouse relies on contributions from individuals, organizations, and corporations to help local families in need.
There are plenty of ways to support our work:
Give now and
make a difference.
Every gift helps Lighthouse provide life-changing assistance to families and individuals in need.
Legal Name: South Oakland Shelter (DBA Lighthouse MI)
EIN: 38-2847849
Volunteer today.
Lighthouse volunteers help with a number of important projects, including packing and delivering food boxes, working at special events, assisting with distribution efforts, and more!
Host a food or supply drive and help your community directly!
Lighthouse relies on donations from the community to support those who need our help. We accept donations of nonperishable food, personal hygiene products, cleaning supplies, and more.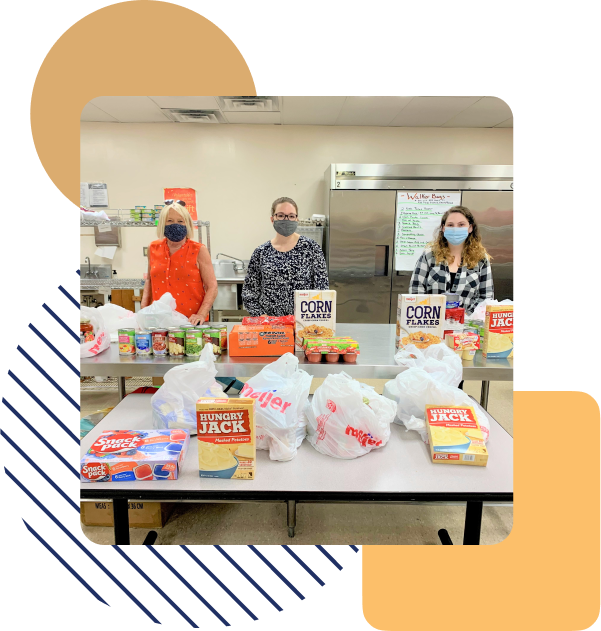 additional ways to get involved
A donor advised fund, or DAF, is an account where you can deposit assets for donation to charity over time. You can support Lighthouse through your DAF or speak to your financial advisor about setting one up. Please reach out to us at [email protected] for more information.
Our Family Emergency Shelter is in need of new household items like bedding, kitchen supplies, cleaning supplies, and more. Check out our Amazon Wish List to send items directly to our shelter.
Meijer Simply Give Program
Purchase a $10 donation card at checkout at the following Meijer stores!
Waterford Store (#53) at 4200 Highland Road to support our Pontiac Pantry
Auburn Hills Store (#185) at 800 Brown Rd. to support our Clarkston Pantry
You can support Lighthouse clients directly through our HandUp crowdfunding platform.
You can include Lighthouse in your estate planning through a Charitable Remainder Trust, Charitable Lead Trust, Will, life insurance policy and other planned giving tools. Please reach out to Andrea DiGiovanni at [email protected] for more information and be sure to discuss with your financial and/or estate planning advisor.
A DIY event allows you to put your ideas and talents into fundraising for Lighthouse. Take an event that you have previously used, or come up with a brand new idea and turn it into a fundraiser!
Add South Oakland Shelter to your Kroger Community Rewards account to provide donations just for shopping! Click on the link, log into your account or create a new one to link to your Kroger card, then search for "South Oakland Shelter."
We invite you to join the Lighthouse community by dedicating a Flame Plaque as part of our Maisel Family Donor Wall.
Inscribe a few words of inspiration to honor an achievement, birthday, anniversary, or the life of a loved one while having a lasting impact on your neighbors in need.
You can purchase much-needed school supplies for students in Oakland Schools.
You can purchase clothing with the Lighthouse logo from Cloztalk. A portion of proceeds are donated to Lighthouse.